Observer-i Ultrasonic Gas Leak Detector
Instantly detect pressurized gas leaks with this high-precision,  omni-direction acoustic detector utilizing Gassonic ultrasonic technology. Works even when traditional methods of gas detection are unsuitable or dependent on ventilation. Features Artificial Neural  Network (ANN) technology that distinguishes between real gas leaks and false  alarm sources without requiring any in-field training. The Observer-i UGLD provides an industry-leading detection range (up to 28 m) reducing the  number of detectors required. Ideal for use in complex, outdoor pipeline systems.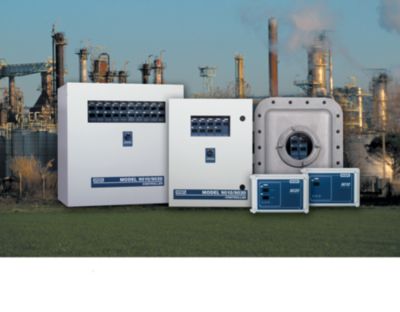 9010/9020 Controller
The 9010/9020 SIL controller comes with advanced design and innovative features. Monitoring up to 20 channels, it's now also SIL 2 suitable. The 9010 controller operates with one independent sensor, while the 9020 operates with two independent sensors per control module. Each module comes with an independent AC/DC power supply for increased system reliability. Both units feature full internal diagnostics, which minimize false alarms and unexpected down time. The controller powers up the remote gas detectors, while its large four-digit LCD and LED provide crucial information such as gas concentration, alarm status and more. The 9010/9020 LCD controller monitors up to 20 channels and comes with an independent power supply. The LCD version has approvals for FM (North America) and CCCF (China) whereas the 9010/9020 SIL controller is ATEX and  SIL2 certified.